On the basis of the panoramic X-ray and the additional information you have given us, Dr Genchev believes it will be possible to complete the full mouth dental restoration with immediate-load basal implants in 1 visit of 5 days in Plovdiv, Bulgaria.
Dental Treatment: Restoration of the 2 jaws
Dentist: Dr Genchev
Location: Plovdiv, Bulgaria
Expected Time: arrival – departure 5 days
Available Dates: 24 November
Price of Treatment: 2 jaws €8990
Dr Genchev can see that your teeth are worn, damaged and weakened. Some are broken. You may have infections in the roots of some of your teeth. You are missing teeth and you have very significant bone loss at the back of the upper jaw.
In principle, Dr Genchev recommends extracting the bad teeth that are not stable and keeping those that have stable and healthy roots. He will file them and cover them with a full bridge to give you good aesthetics and the functionality in order to eat comfortably.
The advantage of keeping teeth is that it prevents the gums from receding, allowing you to wear ceramic bridges that are more reliable, durable and elegant.
Where teeth are missing, he will place basal dental implants to complete the strategic implantation. The bridges will be supported by basal implants distributed along the entire length of the jaw.

Why Basal Implants?
With such severe bone loss on the top jaw , only basal dental implants that are longer and placed in the cortical bone, can complete the full mouth dental restoration to recreate the natural functionality of the mouth to chew normally.
During the on-site consultation, Dr Genchev will be able to confirm the exact treatment plan and the number of basal dental implants to be inserted. Dr Genchev always tries to place as many implants as possible.
The total price for 2 jaws is fixed at €8990 until mid-December 2023. And whatever the final treatment plan, the number of extractions and implants or other dental treatments, the price will be the same.
The Upper Jaw
For the upper jaw, Dr Genchev will remove the bad teeth. If one or two teeth are stable, he will keep them. He will file them to support the bridge. He will place around 10-12 implants, depending on the number of extractions and the quality of the bone. The objective is to create anchor points along the entire length of the jaw to support the bridge. This strategy recreates the natural functionality of the mouth to help you chew normally. He will then fit a fixed full PFM (Porcelain Fused to Metal) ceramic bridge with 14 crowns. The bridge will be supported by around 14 points. He will leave the wisdom teeth outside the bridge.
Extraction of 7 teeth.
Preparation 2-3 teeth.
Implantation of 10-12 immediate-loading basal dental implants.
Full bridge with 14 ceramic crowns.
The Lower Jaw
For the lower jaw, he will extract teeth that are infected or broken. He will remove crowns from devitalized teeth. Dr Genchev will add basal implants where teeth are missing and file stable healthy teeth to support the bridge. Depending on the number of extractions, he will place 4-5 basal implants to complete the strategic implant placement and create sufficient fulcrums to support the bridge. The fixed full PFM (Porcelain Fused to Metal) ceramic bridge will be supported by approximately 12 anchor points.
Extraction 6 teeth.
Preparation 8 teeth.
Implantation of 4-5 immediate-loading basal dental implants.
Full bridge with 14 ceramic crowns.
Examples of Dental Restoration
Discover examples and video testimonials from patients who have had dental restorations similar to those offered by Dr Genchev:
Before and after photos of dental restorations with basal implants carried out by Dr Genchev.
Video testimonials from patients who have undergone dental restoration at Dr Genchev, including feedback 18 months after the new teeth have been fitted.
And find all Dr Genchev's new results on Facebook.
Strategic Basal Implantology
For the full mouth dental restoration, Dr Genchev uses Professor Ihde's method. He uses immediate-loading basal implants and fixed dentures.
This is the best solution for chewing normally and smiling with confidence.
In just 1 visit of 5 days, you'll regain the reliability, strength and beauty of your natural teeth.
Chewing and Smiling
The solution = basal dental implant + fixed full bridges gives you reliability and durability. This solution gives you the strength to chew normally and the beauty of natural teeth.
Dr Genchev's treatment plan will enable you to regain your teeth so you can chew comfortably and smile with confidence. You'll be able to live a normal life again.
Biomed Ihde Dental Basal Implant
Dr Genchev uses the full range of Biomed Ihde Dental (Switzerland) immediate-loading basal implants.
Dr Genchev is one of the leading implant dentsits specialised in basal implantology in Bulgaria. He has the knowledge and experience to use Professor Ihde's full range of basal implants from Ihde Dental, Simpladent and Biomed. This enables him to treat even the most difficult cases, including patients with severe bone loss.
Dr Genchev places as many implants as possible to give the bridge a solid base. The number of implants depends on the number of extractions and the quality of the bone.
Full Fixed Bridge
Dr Genchev fits complete fixed bridges on a basal dental implant. These dental bridges are also known as full bridges or arches because the bridge forms an arch over the entire length of the jaw. This is the best solution for achieving a complete, reliable and durable dental restoration.
Fixed bridges are cemented to the basal implants and filed teeth using Fuji dental cement from Japan. It seals the implants and teeth and isolates them from all contact with air and water.
In cases of severe bone atrophy, Dr Genchev is able to correct the inverted occlusion. The side teeth are made slightly wider to ensure contact between the 2 jaws for normal chewing. Whilst the front teeth will be slightly tilted to create a contact between both jaws and give good alignment to the teeth in order to restore the smile.
PFM Ceramic Bridge
In your particular case, Dr Genchev recommends PFM Porcelain Fused to Metal ceramic crowns prostheses as the best solution for having beautiful teeth that are both reliable and aesthetically pleasing.
Composite Bridge
Dr Genchev does not recommend composite dentures, also known as bicomposite dentures, for your particular case because they only last 2 years before they are damaged. They are made of PEEK, a medical plastic that becomes porous and loses its colour. Dr Genchev only recommends composite as a temporary solution for patients who need a lot of extractions and suffer from significant bone resorption. This is not your case.
Zirconia Bridge
Zirconia for 14-crown full dentures is only recommended for patients who have been edentulous for at least 18 months.
Conscious Sedation
Dr Genchev uses conscious sedation during implantation in the form of a powerful anaesthetic. There is no need for a general anaesthetic that increases the risk of complications. You will be aware that the implant dentist is working in your mouth without feeling pain.
The price: it's affordable to smile!
The price of full dental restoration of both jaws with PFM ceramic bridges is €8990 if you have the treatment before mid-December 2023.
The price includes all treatment-related costs: extractions, implants, crowns, consultations, anaesthetic.
Additional costs for the patient include travel, medication and panoramic X-rays. These are estimated at €600 per person for one week trip in Plovdiv.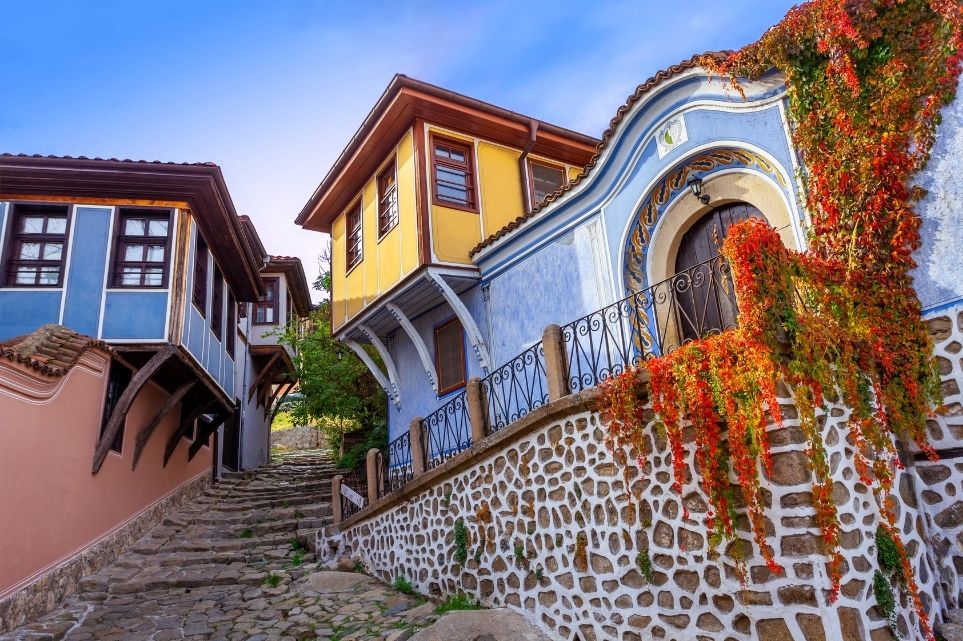 Trip to Plovdiv in Bulgaria
Dr Genchev's coordinator Julien is here to help you organise your trip. He can find you a cheap flight, organise your airport transfer and recommend local accommodation.
Flights to Sofia in Bulgaria
There are regular direct flights from Paris and Nice in France, as well as from Charleroi in Belgium and Geneva in Switzerland.
The price of a plane ticket to Sofia in Bulgaria varies between €60 and €150 depending on the dates and airport of departure.
Airport Transfer From Sofia to Plovdiv
If you wish, Julien can arrange for a driver to meet you at Sofia airport and take you to your accommodation in Plovdiv. Each airport transfer from Sofia to Plovdiv costs €85. Julien can also organise a transfer for your return.
Accommodation in Plovdiv
You have a choice of accommodation in Plovdiv. There are reasonably priced hotels as well as hotels. Hotel or flat in Plovdiv from €35 per night
Welcome on Site
During your visit, Dr Genchev's assistant Anna will welcome you and accompany you during your treatment. She will show you around Plovdiv, which is a very beautiful city, elected European Capital of Culture in 2019. And we will give you a map of the city so that you can find your way around and find the best restaurants in Plovdiv where the food is suitable for dental implants. There are many good dishes in Bulgarian cuisine that are easy to eat!
Medication and Imaging
Dr Genchev will prescribe painkillers and antibiotics. He also requires a panoramic x-ray on a plate before and after the dental restoration.
Medical costs for medication and panoramic x-rays are payable by the patient, totalling around €45.
Antibiotics, painkillers and mouthwash €23
2 panoramic x-rays 2 x €18 (before and after)
The full mouth dental restoration with a basal dental implant is a fixed price of €8990. A deposit is required to reserve the start date of treatment. The remainder of the sum must be paid before the end of the treatment.
You can pay either by bank transfer or in cash on site. The first option is recommended as it is quicker and easier.
It is also possible to pay in euros, as the local currency, the Bulgarian Leva, is pegged to the euro.
Dr Genchev will send you his IBAN with all the necessary bank details. It is not possible to pay by cheque or credit card. In cash, Dr Genchev does not accept €500 banknotes that are out of circulation.
Before you leave, you will need to enter Dr Genchev's bank details in your account and make a trial transfer. Afterwards, it is easy in Bulgaria to make transfers over the internet using your banking application.
This treatment plan is private and confidential. Please do not share it with anyone else as you risk losing the offer. Thank you for your understanding.
---
Answers to Your Questions
Dr Genchev likes to be clear and transparent so that you are calm and relaxed during treatment and so that he can work in serenity. We try to answer all your questions so that you are kept informed.
Below are the answers to the most frequently asked questions. We also have a more detailed list of questions and answers about complete dental restoration with basal implants. Contact Dr Genchev for more details.
What are the potential medical insurance reimbursements?
Dr Genchev will give you a receipt and the OPG before and after the treatment so you can make a claim for your dental treatment.
Where is Dr Genchev's clinic located?
Dr Genchev's dental surgery is in Plovdiv, Bulgaria, and the nearest airport is Sofia. There are cheap flights from France, Belgium and Switzerland to Sofia airport. There are also some flights from the UK to Plovdiv PDV.
How do I organise my trip?
Dr Genchev's team is at your disposal to help you find cheap flights to Sofia as well as accommodation and organise airport transfers.
What are the anti-Covid measures in 2023?
For now there are no requirements to travel to Bulgaria with regards to Covid.
I smoke, can I have dental implants?
Yes, you can have a dental restoration with basal dental implants because the implants are placed in the hard cortical bone rather than the spongy bone which is subject to resorption due to the heat of the cigarette smoke, including electronic cigarettes.
I have diabetes. Can I have basal implants?
Yes, basal implants are the best solution for diabetics. The basal implant is placed in the cortical bone, the hard bone of the jaw, and is therefore better accepted than conventional implants that are placed in spongy bone.